Something for everyone on your list!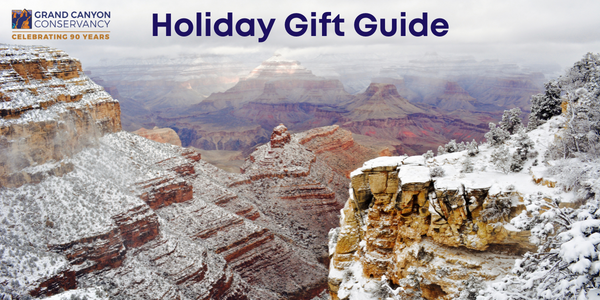 Image courtesy of James Ferguson
Dear ,
This holiday season, get your shopping done early and give a gift that gives back to Grand Canyon! When you shop with us, your purchase goes towards protecting and enhancing Grand Canyon National Park for present and future generations.


Here are a few ideas for gifts that give back:
Tribal Medallion Ivory Mug with Lid - $20.00

The tribal medallion, a collaboration between National Park Service staff and Tribal colleagues, was developed with the artistry of Andy Dufford, Chevo Studios, as a way to introduce park visitors to the Native American cultures that maintain strong cultural and spiritual ties to the canyon. The original medallion, embedded as a landmark, can be seen at the Mather Point area of Grand Canyon National Park.

Ceramic Mug: 14 ounces
Phantom Ranch, One Hundred Years in the Making - $8.00

This Special Edition of our Phantom Ranch book features a new chapter by Teri Cleeland recounting 100 years of history at this amazing landmark!

Nestled at the bottom of the Grand Canyon and accessible only by foot, mule, or boat, Phantom Ranch maintains a sense of the past like few places on Earth. This book tells the story of the ranch, touching on its history, architecture, natural environment, and the people who live there.

Author: Scott Thybony

Contributing Author: Teri Cleeland
Dark Skies Grand Canyon 1,000 Piece Puzzle - $20.00

The night sky over Grand Canyon reveals a cascade of luminous stars and planets. Grand Canyon National Park received its designation as an International Dark Sky Park in June of 2019. Although the park is certified, there is still more work to be done to minimize light pollution and provide a pristine view of our galaxy. Your purchase of this puzzle helps protect Grand Canyon's dark skies.

Photo courtesy Christopher K. Eaton

1,000 pieces; finished puzzle is 20" x 25"
Youth Wool Knit Bobcat Hat - $24.00

The Morales family of Otavalo, Ecuador hand-crafts these knitted wool caps in their home workshop, high in the Andes Mountains. Rene and Lucila do most of the work while their two daughters are in school or studying. It's hard work and requires long hours for both of them. Arts of Ecuador helps support artisans such as Rene and Lucila by purchasing their products at a fair market price and returning a portion of each sale to an education fund for their children.

Partial fleece lining

Head opening, approx. 9"
Grand Canyon National Park-opoly - $30.00

Experience Grand Canyon in all its glory as you set out on a rim to rim hike, with Grand Canyon National Park Opoly! Play on an authentic, park inspired game board featuring the national park's iconic landmarks, wildlife, and activities. Learn the park's history along the way!

Includes:
6 Collectible metal tokens, 2 dice, 1 pack of money, 32 plastic camp fires, 12 plastic tents, all the cards and the game board.

Ages 8 and up
Gift Membership - $35.00 and up

A one-year membership to GCC is the perfect gift for that hard to shop for individual on your list!

Share the wonder of Grand Canyon National Park while helping to preserve and protect this natural treasure for years to come. Each membership includes an official Grand Canyon Conservancy Member card, discounts in our park and online stores, reciprocal discounts at other participating Public Land Alliance stores around the country, and invitations to Member-only events and experiences.
Shop for these products and more and make an impact this holiday season!